Currency: Banknotes and Coins in Poland ...


The official Polish unit of currency is the Polish Zloty (1 PLN = 100 groszy). If you convert 1 USD into Polish Zloty you will receive about 3.70 PLN (2015). The bank notes are: 200, 100, 50, 20 and 10 zlotych. The coins are: 5, 2, 1 zloty and 50, 20, 10, 5, 2 and 1 grosz.


A D V E R T I S E M E N T:
Exchange Rate:
The Polish Zloty exchange rate may fluctuate many times during the day. Major foreign currencies may be exchanged for Polish Zloty at the banks or exchange counters / kiosks, identified by the name KANTOR. They are located in many places like hotels, train and bus stations at the airport (the worst exchange rate), shopping malls as well as main streets in the cities. Kantors are open between 9:00 am to 7:00-8:00 pm, but some might be open 24 hours.

In Poland is used Polish Zloty, but some places honor Euro too. To check currency exchange rate, please visit xe.com
An offer to exchange money by an unknown person on the street, while very rare, is almost certainly a scam.
Tips:
There is no requirement to leave tips in Poland. But if someone is happy of the service may live tip about 10%. Some restaurants might charge additional service charge. Also there is no requirements to leave tips to taxi driver. In the hotel you may leave tip for the room service from 5 to 20 zl, and this depends what kind of hotel you stay at.
Following are examples of the currency and coins presently used in Poland:
| | |
| --- | --- |
| 200 zlotych >> | |
| | |
| --- | --- |
| 100 zlotych >> | |
| | |
| --- | --- |
| 50 zlotych >> | |
| | |
| --- | --- |
| 20 zlotych >> | |
| | |
| --- | --- |
| 10 zlotych >> | |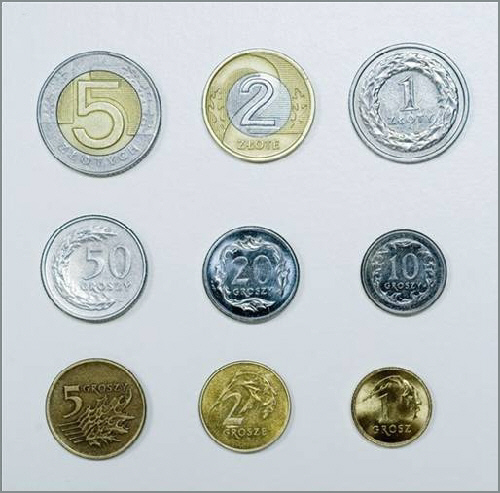 Credit Cards:
An increasing number of establishments in Poland accept credit cards. Among the most popular are American Express, VISA, MasterCard, Eurocard, Carte Blanche and, Diner's Club. You may pay with credit card in the stores, gas stations, restaurants, hotels. You need to have credit card if you plan to rent a car or for online purchases. Holders of credit cards can obtain cash from banks or ATMs. Automated teller machines (ATMs) are widely available throughout major cities in Poland. Most Polish ATMs offer instructions in multiple languages and allow access to U.S. bank accounts. Visitors requiring ATM services should attempt to use machines at more secure or heavily traveled and monitored locations, such as commercial banks, large hotels, and the airport. You should monitor your personal bank account after traveling. But in some smaller towns or local kiosks you need to pay with cash only.
Traveler's Checks:
Major traveler's checks can be exchanged for polish currency. When traveling to smaller towns, it is better to have some cash in reserve. Eurochecks are accepted in accordance with standard international tourism agreements.

Source: PI
Date: 04-15-2015