Polish Folk Music ...


Wedding traditions demanded that guests be invited in a certain obligatory manner.
Polish folk songs are monophonic. Structural elements of the melody compose the light and airy whole, that may suit also dancing purposes. Meter structures are the best preserved elements in music of amateur ensembles. The most typical and principal meters in polish folk music are the simple duple and triple meters. Folk instruments and instrumental ensembles practice admit, that melody is the most important element of polish folk music.

---



Beautiful Polish Folk Music from Poland:


Kujawiak / Folk Music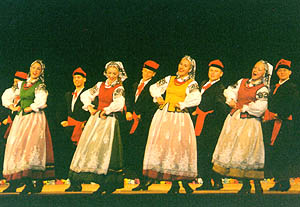 Kujawiak is a Polish dance from the region of Kujawy after which it is named (the region is in central Poland, on the Mazovian plains).

The kujawiak was originally danced with a calm dignity and simplicity, in a smooth flowing manner "reminiscent of the tall grain stalks in the fields swaying gently in the wind." The couples were spinning around the circle in a seemingly endless rotation. There were no vigorous stamps and no drastic changes of tempo. This style was passed on from generation to generation. There was no special schooling: children and young people would watch during parties and festive occasions and then try it on the side. Because of its beauty the kujawiak was embraced by the landed gentry and the nobility. Fascinated with the music, they collected and published kujawiak melodies. In order to learn the dance, the landowners invited the village musicians and dancers to their manors. They encouraged the peasants to show them fancier steps and figures. They themselves also improvised new figures or new ways of dancing the traditional steps; some of these improvisations were in turn adopted by the village dancers. As a result of this interchange, the kujawiak, in a polished but not completely changed form, was incorporated at elegant parties and fancy balls.

From Kujawy the dance was taken to similar festive occasions in Warsaw and other big cities. From there it spread all over Poland, where it underwent various transformations as, for instance, a tempo alternating from slow to fast and back to slow, show-off steps for men, new figures, etc. One figure from the kujawiak as performed by the Podhale Polish Folk Dance Company appears in the photo; the dancers wear costumes from central Mazowsze area.

The kujawiak exists in two forms: as a regional folk dance including many varieties, and as the unified "national dance," (one of the five so-called "national dances of Poland" with polonaise, krakowiak, oberek,and mazur). Both variants include rotations of couples which shift around a large circle of the dance space. The folk versions are notably faster than the national version, they are also more complicated, with a greater variety and difficulty of steps.


Polonaise / Folk Music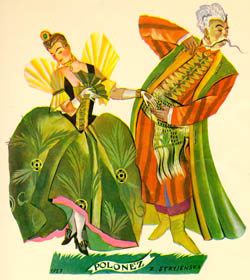 The polonaise is a stately Polish processional dance, performed by couples who walk around the dance hall; the music is in triple meter and moderate tempo.

The dance developed from the Polish dance (taniec polski) of the 18th century; this form, in turn, was derived from the chodzony (walking dance) which was popular in the 17th century and known as a pieszy (pedestrian), or chmielowy (hops) dance. The latter form had its roots in the folk wedding dances, from which it separated and then entered the dance repertoire of the nobility. The folk variants continued to develop independently of the "Polish dance," resulting in such dances as chodzony, chmielowy (in the villages), and swieczkowy (in the towns). The Polish name of the dance, polonez, stems from the polonized form of the French term polonaise which was introduced in the 17th century (also accepted in English); the Polish term replaced the earlier name of the "Polish dance" in the 18th century; the earliest Polish source is a 1772 manuscript collection by Joseph Sychra (with 62 polonaises). The polonaise as a dance form should not be confused with the chorea polonica (i.e. "Polish dance" in Latin) occurring frequently in the Baroque manuscripts of the 17th century. According to many scholars, the chorea polonica has musical characteristics of the krakowiak, not the polonaise.

According to the entry on the polonaise in the New Grove Dictionary of Music and Musicians, before the end of the 16th century the Polish folk dances that are ancestors of the polonaise were adopted by the lower ranks of the upper classes (gentry and lesser aristocracy). At first they retianed their sung accompaniment, but as these dances became popular among people of higher status, the music was transferred to the instrumentalists who accompanied court dances.

The court polonaise, according to the New Grove entry, "was played by musicians in the galleries of the great reception halls while the assembly, dressed in great splendour, danced it below in processional figures [...] In this form it was transformed into the most highbred expression of the Polish national spirit and became in the process the most representative of Polish dances throughout Europe."

Music by Tatra Mountains Highlanders / Folk Music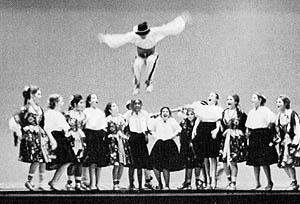 Krakusy in góralski, 1999. The góralski varies in content and style from one village to another and from one dancer to another. Although the góralski is a couple dance, the partners touch only during the final turning together figure, called "zwyrtanie" (according to Ada Dziewanowska, Polish Folk Songs and Dances, p. 267). The man plays the leading role and performs the most intricate steps. The woman has only two or three different patterns to perform and mostly responds to the actions of the man.

There were few transcriptions of górale music in the first half of the 19th century and none earlier; an explosive growth in the outsiders' interest began in the late 19th century. At that time, Dr. Tytus Chalubinski organized many excursions into the Tatras accompanied by groups of górale musicians. Despite the presence of górale themes in 19th-century Polish opera (Karol Kurpinski's Zabobon, czyli krakowiacy i górale; Stanislaw Moniuszko's Halka), a serious interest in the stylistic traits of the Podhale folklore was expressed only in the 20th century, starting with Karol Szymanowski (his Mazurkas, ballet Harnasie), and continuing with Artur Malawski (symphonic poem Tatry), Henryk Górecki (two string quartets), and Wojciech Kilar (Krzesany for symphony orchestra). DESCRIPTION The dance is performed by a solo couple; the man is the dominant partner and selects the tunes and figures to perform. He sings to te musicians the tune he wants to dance and they respond by repeating it with ornaments. According to the description of the góralski by Wlodzimierz Kotonski, the dance begins when another male dancers introduces the girl onto the dance floor and turns her around ("Wyzwyrtanie"). During the following sequence of dances, the male partner dances solo, circling around the woman and presenting a variety of figures. The woman responds by turning, performing heel clicks, and stamping. The dance sequence usually begins with the slower nuta ozwodna and the steps of drobiony (minced), running, and regular. After a couple of ozwodnas the dancers performs a krzesany (from "sparks" of the flint; the name comes from the regular, heavy accents in the music) or drobny (tiny; the name reflects the small size of the fast-paced steps). MUSIC Podhale is the only area of Poland where the folk culture is still alive as it is present in the daily activities of the górale. They wear their costumes, speak the local dialect, and sing and play the traditional melodies. The music of this region strongly differs from Polish folk music of its northern regions, especially because of its predominantly duple meters (triple meter is the most popular on the Mazovian plains). However, Timothy Cooley discovered that the 19th century collectors, especially Oskar Kolberg, found numerous triple-meter melodies in the Tatras; the change of the repertoire may be attributed to the influence of outsiders, the tourism promoters and ethnographers, who emphasized the differences between the music of the górale and that originating from the rest of the country (Cooley 1998, 2000). Several types of melodies are used for the dance: nuta ozwodna, krzesana, drobna, and zielona. The man sings one couplet in a high and tense falsetto voice and a quasi-improvisatory manner. The band (called kapela or muzyka), led by a violinist, responds with repeats of the ornamented melody (performed by lead violinist). The strongly accented rhythmic foundation is provided by the accompanying violins and the basy (see the entry on zbójnicki for a description of the band and the instruments).

Information and pictures are published for information only. The zbojnicki picture is from Krakusy Polish Folk Dance Ensemble archive, featuring their main dancer, Stanislaw Danko (1970s), the one of Kujawiak picture is from Podhale Polish Folk Dance Company, also from California (Maja Trochimczyk, Ph.D.

info/photos).

More interesting information you can find on web site: www.usc.edu/dept/polish_music


NOTE:
Many traditions are regional and can be little different.




Source: PI