Information about USA ...

United States of America (USA, United States, US) - a federal state in North America.
United States of America (USA, United States, US) - a federal state in North America, bordering with Canada to the north, Mexico to the south, the Pacific Ocean to the west, the Arctic Ocean to the north - west and the Atlantic Ocean to the east.
---
Language:
Americans speak English, administration offices, hotels and tourist places you can communicate well in Spanish or even Polish. You should ask for the person who speaks Polish. Other languages such as Spanish, Hawaiian, Samoan, Chamorro, Carolinian, Cherokee are used in some states.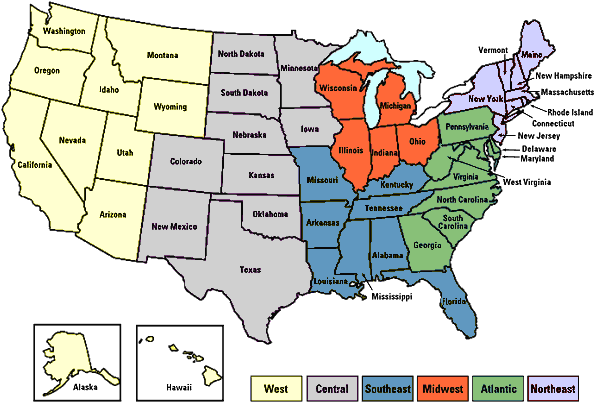 [ Map of the United States of America - by states ]



General Information


Pełna nazwa


United States
Original name

United States of America (USA)
Area

9,826,675 km kw (9,161966km kw-land, 664,709-water)
Population

319,309,000 (2014)
Density of population

29,7 osoby/km kw (lipiec 2001)
Languages

English (official), Spanish
Birthrate

0,9 % (2001)
The average life expectancy

| | |
| --- | --- |
| men | 74 years |
| women | 80 yers (2001) |

System, society


Government


Presidential parliamentary republic
Constitution

September 17, 1787
Independence Day

July 4, 1776
Main Political Parties

Republican Party, Democrat Party
Membership in international organizations
APEC, ARF (partner dialogowy), AsDB, ASEAN (partner dialogowy), Australia Group, BIS, CCC, CE (obserwator), CERN (obserwator), CP, EAPC, EBRD, ECE, ECLAC, ESCAP, FAO, G-5, G-7, G-10, IADB, IAEA, IBRD, ICAO, ICC, ICFTU, ICRM, IDA, IEA, IFAD, IFC, IFRCS, IHO, ILO, IMF, IMO, Inmarsat, Intelsat, Interpol, IOC, IOM, ISO, ITU, MINURSO, MIPONUH, NAM (gość), NATO, NEA, NSG, OAS, OECD, OPCW, OSCE, PCA, SPC, UN, UN Security Council, UNCTAD, UNHCR, UNIKOM, UNITAR, UNMEE, UNMIBH, UNMIK, UNOMIG, UNRWA, UNTAET, UNTSO, UNU, UPU, WCL, WHO, WIPO, WMO, WTrO, ZC
Race
White 84%, Black 12%, Asian 3.2%, Indians 0,8% (1992)
Religion
Protestants 51%, Catholics 24%, non-religious 4%,
Christians 2%, Judaism 2%, others 17% (2007)
Capital
Washington
The biggest cities
New York, Los Angeles, Chicago, Houston, Philadelphia, San Diego, San Francisco, Detroit, Boston
The most important seaports
Anchorage, Baltimore, Boston, Chicago, Hampton Roads, Honolulu, Houston, Los Angeles, New Orleans, New York, Philadelphia, Port Canaveral, Portland, San Francisco, Savannah, Seattle, Tampa
The most important airports
New York, Chicago, Los Angeles, New Orleans, Denver, Seattle


Economy


Currency

US$ / US Dolla = 100 cents
Unemployment rate
4 % (2000)
Inflation
3,4 % (2000)
Illiteracy
5 % (1992)
Residents for 1 doctor
404 (1992)
Electricity
120V, 60Hz (Type "A" plug)
Electricity usage
3,45 bln kWh (1999)
Internet - domains
us, .edu, .gov, .mil (pospolite: .com, .net, .org)
Main items of export
Capital, cars, industrial products, minerals, consumer goods, agricultural products
Main items of import
Oil, refined petroleum products, machinery, automobiles, consumer goods, minerals, food and beverages
km Roads per 100 km2
67,96 (1997)
km Railways per 100 km2
2,4 (1999)

United States consists of 50 states. The third in terms of population and fourth in terms of territory.
Source: PI
Date: 07-15-2015
USA — General Information about the country
Travel — Information
USA — See list of the web links.