General Casmir Pulaski in a letter to General George Washington:
"I came here, where freedom is being defended, to serve it, and to live or die for it..."
[ Casimier Pulsaki - video in Polish ]
During month of March Poles in Chicagoland celebrated a patriotic day of the hero of two continents: N. America and Europe.

Who was Casimir Pulaski?
Casimir Pulaski is known as a Polish native who became a war hero in two countries Poland and USA!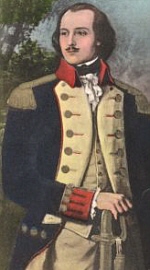 Casimir (Kazimierz) Pulaski was born on March 4, 1745 in Warka Winiary, Poland. Pulaski came from a family of eight, one of three sons and five daughters of his lawyer-father, Count Jozef Pulaski and and Marianna Zielinska. His family belonged to the minor Polish nobility. His father Joseph Pulaski taught his children to be good patriots and to love Poland.

When he was eight years old, his father bought him a pony. Casimir loved horses. He practiced riding horseback and shooting guns for many years. When he was fifteen, his father decided to send Casimir for formal training school. He became an officer of the army at the age of fifteen.


Pulaski became a National hero in 1771 when he and his army defeated Russian forces in Poland. Pulaski gained fame as a cavalry commander in the patriotic anti-Russian Confederation of Bar, coming its commander in chief.




In October 1771, Pulaski undertook one last major expedition as part of a plot to abduct the King Stanislaus August Poniatowski. The plot misfired, but it led to the young Casimir being unjustly accused of attempted regicide and later, to a death sentence. In the bitter fighting, his father and brothers were killed, Casimir was arrested and condemned to death for his part in the revolt, and escaped. When in 1772, Russia, Prussia, and Austria began negotiations to partition the Commonwealth, he and the other confederates saw the futility of continuing the struggle. In the face of the charges against him, he was forced to flee his homeland (Poland), and never to see it again. In 1772 he fled to Turkey, and later to France. Young Pulaski was sorely disappointed in his inability to secure freedom for the Baltic people. In 1776 he appeals to the Sejm (Polish Parliament) in Warsaw to be allowed to return to Poland but there was no reply.

.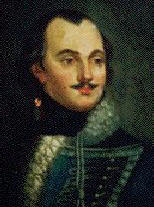 In 1777 Casimir Pulaski arrived in Paris and met Benjamin Franklin, who tried to get military leaders, who could help the Americans in their fight for freedom from England. Benjamin Franklin recommended Pulaski to George Washington and described Casimir Pulaski: "...the young Pole as an officer, renowned throughout Europe for the courage and bravery he displayed in defense of his country's freedom".

Casimir Pulaski understood why people wanted freedom, so he decided to help and on July 23, 1777 he came to America. On September 11, he took part in his first battle on American soil on the Brandywine Creek between Chester and Philadelphia. On Washington's recommendation, the Continental Congress appointed Pulaski general of the cavalry on September 15, 1777. Pulaski received the consent of Congress on March 28, 1778, to form a special infantry an and cavalry unit capable of more independent military action. It took him about five months to form and independent corps of cavalry, later known as Pulaski Legion, at his headquarters in Baltimore.


The new recruit organized a cavalry unit composed of American, Polish, Irish, German, and French troops. In February of 1779, he received orders to proceed to South Carolina to reinforce the southern American forces under British attack. On May 8, the Legion arrived in Charleston where it greatly contributed to the successful defense of the town against a much larger British force. On October, 1779, the newly formed unit engaged the British in the Siege of Savannah where on October 9, Pulaski was very badly wounded. He was carried away by his soldiers and placed on a ship named The Wasp to get medical help. But he died two days later on October 11, 1779, and his body was buried at sea.


However, archeological studies of Savannah Pulaski Monument together with the discovery of this bones on September 27, 1996 in a vault under the Monument threw new light on the circumstances surrounding his death. Thus, October 15, 1779, is believed to be the correct date if General Pulaski's death. Historians are unsure how Pulaski died. The popular account holds that Pulaski rallied the troops in a cavalry charge upon hearing that a fellow officer was hit in the leg by a musket ball. During the charge, Pulaski was struck in the thigh by grapeshot and fell from his horse. Within days, gangrene claimed the war hero's life. Historians continue to debate what happened to Pulaski's body after his death. One traditional account is that Pulaski died aboard the American ship Wasp and is buried at sea.


Americans have always recognized Pulaski's heroism and the price he paid for their freedom. Shortly after his death a solemn memorial service was held in Charleston, and, before the end of 1779, the Continental Congress resolved that a monument should be erected in his honor, though a statue was not put into place in Washington, D.C., until 1910.

Over the years Americans have kept alive his memory naming many countries, towns, cities, streets, parks, schools, stamps, postal cards, FDCc's and squares after him. Among those of Polish descent, his fame rivals that of Kosciuszko, who, after his service in the American Revolutionary War, returned to his homeland, where, in 1794, he led an insurrection against the same Russian domination that Pulaski had fought before coming to America.
---
Casimir Pulaski Commemorative Stamp

On Jan. 16, 1931, the U.S. Post Office Department issued this commemorative stamp honoring Polish patriot Casimir Pulaski, who fought with American forces during the American Revolution. The stamp was first released in Savannah, where he died, as well as in eleven American cities with large Polish populations.

The 2-cent stamp was released to mark the 150th anniversary of the death of Casimir Pulaski, who was mortally wounded in the siege of Savannah. However, as Pulaski died on Sept. 11, 1779, the stamp came over a year after the sesquicentennial of his death.


Postal Card

The Postal Service issued this postal card on September 11, 1979 with first-day-of-issue ceremonies in Savannah. The design shows Count Pulaski on horseback at the siege of Savannah in 1779.
---