Contact
If you are interested to purchase some of the lands we listed for sale or want to see it or send us an offer, or if you have additional questions, please contact Real Estate representative or send email directly to the owner of the property.
Those lands are listed by the Real Estate office in the city of Rzeszow, you may go directly to them, call agent Marta, or send email / form. Below you will find address and telephone number to the Real Estate representative:
IAN Group Nieruchomosci
ul. T. Kosciuszki 4/3
35-030 Rzeszow
Poland
Contact: (Marta) tel. 604150047
Office: tel./fax: (17) 864 06 06
www.iangroup.net
Contact w/ Real Estate via email here (in Polish)
or
Contact w/ owner of the property via email here (in English or Polish)

Excellent investment, quiet neighborhood.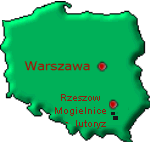 Location Map > here
Property Map > here
Pictures online > here
Strona Glowna (Polska wersja)